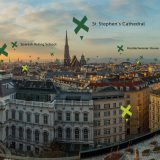 Vienna Explorer
Best tours in the city
Our Tours
We will open our tour and bike rental office on 15th March 2021. We will offer the bike rental for Vienna and the Danube Bike trails to Budapest and Passau can also be booked again. We will start operating our small group tours from 1st April 2021 onwards. Our tours will be operated as small group tours, following all COVID 19 restrictions/regulations.
You can reach us via phone 004318909682 or via email: info@viennaexplorer.

All tours small group tour
Bike Tours max. 12 PAX Walking Tours max. 15 PAX Van Tours max. 8 PAX

Booking flexibility
No deposits Free cancellation Change your date for free...for all bookings made before 1st April

COVID 19
Desinfection of bikes and public areas. Customer service and meeting point infront of the shop (outside).
Tours in 2021
We offer all our tours as small group tours and are following the latest COVID 19 regulations/restriction. All tours and bike rentals booked before 1st April 2021 can be booked without any deposit and can be changed or cancelled without any charges. Please support us by booking early on our website or emails, even if your dates are not 100% fixed yet. We lost a lot of flexibilty due to the lockdowns and have limited ressources this year and need to plan ahead.
Witness the charm of the Wachau Valley and go where the big buses can't take you!

Our city bike tour –a dynamic way to explore Vienna's most fascinating sights!

Discover the beautiful Wachau by riding the bike along vineyards and the Danube river
Something for everyone
Walk, bike or in a luxury van, we have an option for everyone