Danube Bike Trail – Passau to Vienna
| | |
| --- | --- |
| 1. March - 1. November 2018 | |
Tour Details
THE ULTIMATE 7-DAY DANUBE TRAIL PACKAGE
The Danube Bike Trial from Passau to Vienna offers easy cycling along mostly flat and well-marked bike paths. It is a great choice for a more active and adventurous holiday or those on a budget. The Danube cycle path is the perfect place for cycling holidays.
The tour passes through many picturesque towns and villages and across lush farmland. There are many places to stop for a romantic picnic along the banks of the Danube River or an opportunity to indulge in local cuisine at one of many quaint inns.  Along the majestic river, you will pass by historic castles, cozy villages and sprawling vineyards.
Passau – Vienna 335 km (approx. 210 miles)
Let us know where you would like to start
Start from Passau: We deliver the bike to your hotel

Start from Vienna: Pick your bike up from our shop- we are open 7 days a week
Our package includes not only 7 days bike rental but extra equipment and one -way bike delivery
Take your time! If you would like to enjoy your ride for more than 7 days then you can add extra days for 15 € per day.
You already have all equipment and only need the bike? 
Tour Highlights
KTM 24 Speed Life Touring Bikes
Ride along the Danube River
Discover 2 Countries in 7 Days
Price Includes
7-Day Bike Rental
40 l waterproof Ortlieb Rear Panniers
Helmet
Bike lock
Repair Kit, Pump & Tools
Bike delivery (or pick up from) to Passau
Price Excludes
Luggage Transfer: Passau -Vienna must be pre-booked (extra charge of 50 euro per piece)
Hotel delivery in Vienna
Miscellaneous
Free instalation of your own saddle or pedals if you start in Vienna
Every additional day only 15,00 €
You can purchase your Vienna Explorer sports water bottle, a holder for your mobile phone and the Danube Bike Line Book in our shop in Vienna
Tours you might like as well
The Danube cycle path is the perfect place for cycling holidays.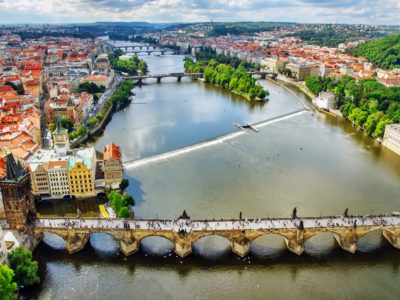 Explore the "Golden City" and travel bacl to the Middle Ages as you stroll through the Old Town
Cancellation policy
Cancellation policy:
Cancellation less than 1 month before tour date: only 20% administration fees
Cancellation less than 2 weeks before tour date: 50% of the total amount
Cancellation less than 1 week prior to tour date: 100% of the total amount
No show: no restitution